"Hirsute Hippo" is the project code-name for what will become Ubuntu 21.04 when it releases on April 22nd 2021.
On April 1st, the Beta of Ubuntu Hirsute will be released, but we're no fools! This is a great time to do some testing!
So, starting on April 1st, we're doing another Ubuntu Testing Week.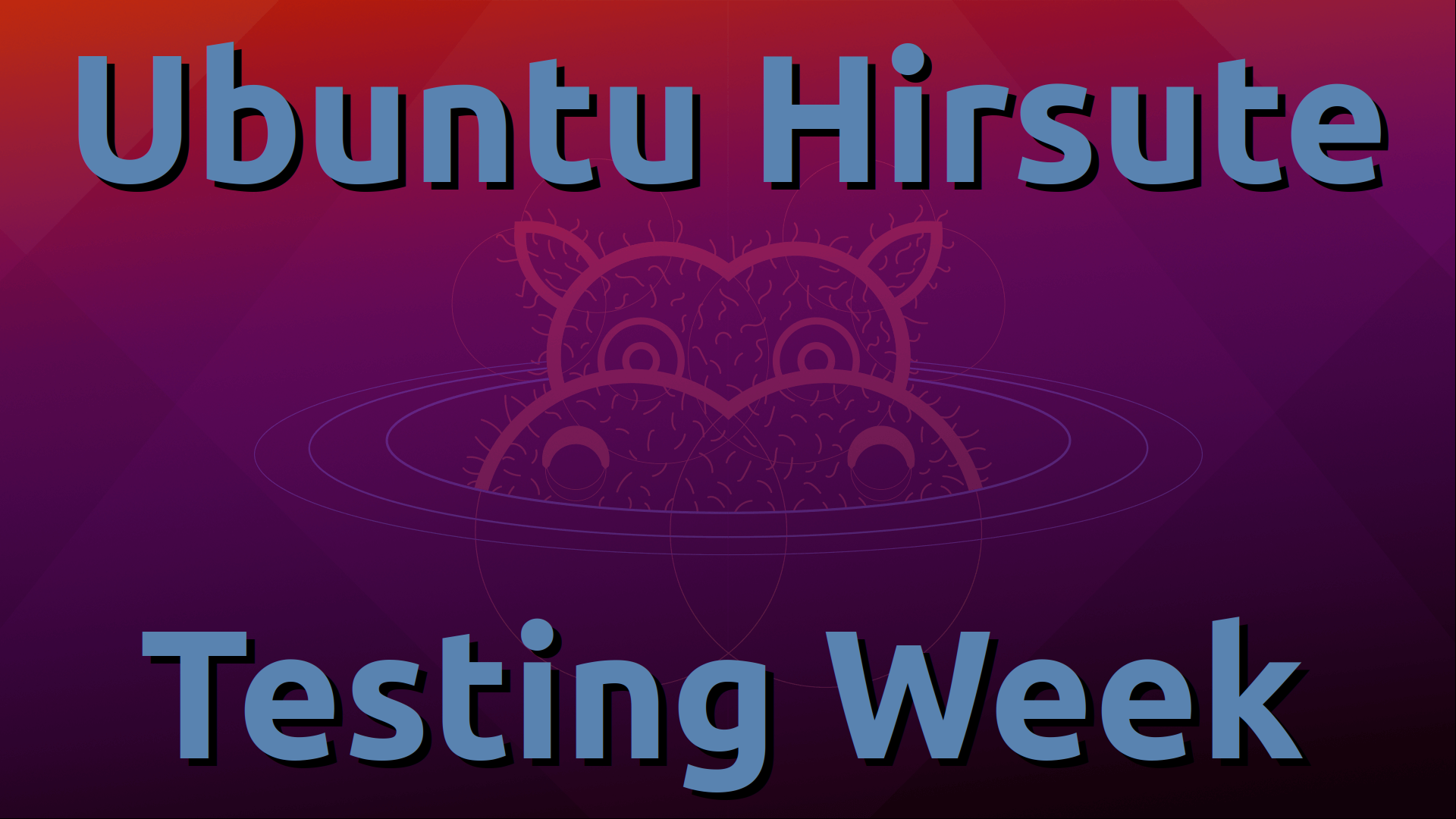 As always, everyone is welcome to test Ubuntu at any point in the year. But during the beta is a good time to focus on testing.
The images will be (relatively) stable, and should (largely) represent what the final release will look like. That's subject to change though, of course.
What to do
Learn
I made some videos a while back showing what to do, they're still valid.
We have some documentation!
Pick a flavour
The Ubuntu project has a diverse community of flavours. Each ISO image needs a good spread of testing. I personally find it's fun to test flavours that I don't use often. Partly to see what's new, but also because a fresh pair of eyes and fingers sometimes discover sharp corners that regular users miss, or are used to.
In no particular order, they are:
Xubuntu
Kubuntu
Lubuntu
Ubuntu Budgie
Ubuntu MATE
Ubuntu Studio
Ubuntu Kylin
Ubuntu Server
Plus we have some new(er) remixes which could also do with extra eyeballs and testing.
Ubuntu Cinnamon Remix
Ubuntu Unity Remix
If you have limited time, just pick one, and test that thoroughly. If you're not busy, grab a few and try them all out. Once you get into a rhythm of testing them, it's pretty easy to work your way down the list and give them all a bit of love.
Download
The ISO Tracker links to ISO images for all the supported flavours.
Discuss
While the ISO downloads, join the discussion with others in IRC on #ubuntu-quality or in Telegram Ubuntu Testers. They're a friendly bunch who always want to help others test effectively.
There's also this discourse thread which announces the Ubuntu Testing Week.
Install
You can install on bare metal, if you have a laptop or desktop to play with. Alternatively, use a virtual machine (VM) on top of an existing Linux install. If you're running Windows or MacOS, you can install in a VM on those platforms too.
Test
Follow the test cases outlined on the ISO Tracker. There's multiple tests per ISO. We need to test the defaults used in a standard install, but there's a bunch of other options which need validating too. So running the same install repeatedly with different options is just as valuable as running multiple flavours. It all needs testing!
Report
You found an issue!? Great success!
Now report it! We have a walkthrough which outlines specifically how to report issues.
If you get stuck, drop by the discussion channels and ask for help!
Remember, Ubuntu Testing Week starts on April 1st! Don't be a fool! Get testing!